Theo tin prweb.com
New article by Rida Morwa from High Dividend Opportunities: Technical charts show that the equity markets may already be near a bottom. A recovery could start as soon as this week. What if the market overshoots to the downside and we see a further pullback? The markets will recover, and good stocks always bounce back. For income investors, the markets are offering enticing yields. Start building a high-dividend portfolio today before it is too late.
NEW YORK (PRWEB) DECEMBER 25, 2018
By: Rida Morwa, High Dividend Opportunities
The S&P 500 Index is officially in a "bear market". The index closed on Monday down 2.7%, reaching the 2,351 level, its lowest level since April 2017. The index is down more than 20% from its September intraday high of 2941 points. The widely accepted definition of a "bear market" is a drop of at least 20% from a recent peak.
But not all hope is lost. What is very interesting in this case is that the S&P 500 index is at a major support trendline that goes back to the year 2010. This is a level that bulls will defend with all their might, and could be very positive for the stock markets as we head into the New Year. Please have a look at the chart below depicting the chart of the S&P 500 index ETF (SPY):
To continue reading, please click on the link below:
A Market Bottom Could Be Very Near
https://seekingalpha.com/article/4230002-market-bottom-near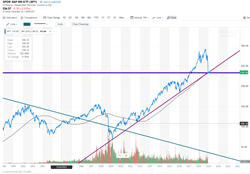 https://www.prweb.com/releases/a_stock_market_bottom_could_be_very_near/prweb16006806.htm
Note: We are not responsible for typo error, price change, substitute item, or available of item from online ads.
Lưu ý: Chúng tôi không chịu trách nhiệm về lỗi ấn, thay đổi giá, hàng thay thế, hoặc có sẵn mặt hàng quảng cáo.