Theo tin Franchise Update Media hay prnewswire.com
Franchise Owners in Search of Good Hires in a Tight Job Market Have Figured Out the Path to Success
With its industry thriving in an economy that's boasting an abundance of jobs, Franchising.com asked some of its most successful franchisees to share their techniques for hiring the right workers—and some of their answers were surprises.
SAN JOSE, CALIF. (PRWEB) OCTOBER 16, 2019
Not since 1969 have so few people been unemployed in the United States. That's evidence of a strong economy, but for a robustly growing industry like franchising, hiring techniques become even more crucial. "It's the hot topic of the day," says PuroClean franchisee Keegan Trudgen. "We're at full employment and everyone is looking for qualified workers." Add in the high turnover typical of certain franchise industries (think restaurants), that makes good solutions for effective hiring, training, and retention essential.
Trudgen and several franchise industry colleagues still include traditional hiring approaches, but they have also expanded and adapted to snag those workers they know will fit well in a franchise environment. Offering a future that's more than short-term is an effective strategy, says Lance Vaught, vice president of operations for the Penn Station East Coast Subs franchise. "Competing for employees on starting wage alone is not effective in today's ultra-competitive hiring environment. We have always felt the type of employee our franchisees are looking to recruit is someone who wants to work their way up the ladder from day one."
With that in mind, Vaught says, "We developed the My Penn Path development aid, which allows franchisees who are recruiting job candidates to more clearly articulate a candidate's career path. It engages them in the process from the start and allows franchisees to compete on opportunity as much as wage." Candidates are also asked to complete personality profiles. "These profiles help ensure that the candidate is a good fit culturally and emotionally.
They also help assess which candidates stand out–those we want to quickly move on to a fast-pace promotional track."
Jeff Meyer, president of Meyer Foods, a franchisee of eight Culver's restaurants in Indiana, has found that tailoring interviews to get at more than basics is useful. "We believe we can teach any skills within the restaurant, but we cannot teach drive, passion, and motivation for success," he says. "Those are key skills that we keep top of mind during our interview process."
Looking for motivated local organizations is also a powerful franchise worker hiring tool, says Wisconsin-based BrightStar Care multi-unit franchisee Susan Rather. "We are doing mock interviews at job centers, and we're on the boards of organizations such as Centro Hispano, which supports the Hispanic population in Madison with job coaching and resource navigation," she says.
Like most other franchisees, Meyer actively recruits from friends and family of current employees, but he's also looking at another population for potential hires. He keeps a close eye on his customers. "We view everyone as a potential team member. Many of our current team members were guests in our restaurants and liked the environment so much that they inquired about job opportunities."
Drawing in prospective hires now includes more than job descriptions. The BrightStar franchise corporate website features videos of its caregivers working with simulated clients.
Nor are phone calls the only way to make positive connections. Says Rather, "I've changed my stance on communicating with applicants by text. Previously, I thought it wouldn't help us make a connection, but I see now that we have to communicate in the way they're accustomed to."
Jeremiah Bowe, another Culver's franchisee, also understands he needs to offer more than the standard package of benefits. With a workforce that's 70 percent part-time, he works extra hard to keep those employees coming back to his franchise locations, despite the temptation of other seasonal jobs. He offers comeback bonuses and, something quite remarkable for part-timers, paid time off and affordable health insurance.
Ultimately, finding the right franchise hire requires both innovative and traditional methods. "It's like fishing," says TJ Schier, founder and president of SMART Restaurant Group and owner of 14 franchised Which Wich sandwich locations. "You need to have a presence, many hooks in the water–job boards, ads, in-store, social media–with the right bait."
Get more tips for becoming a successful franchisee at
https://www.franchising.com/getting_started.html
About Franchise Update Media
Founded in 1988, Franchise Update Media produces popular franchise websites, magazines, research, and four highly regarded annual conferences that serve franchise audiences online, in print, and in person. Franchise Update Media delivers a unique combination of educational and lead generation sources to help franchisors, multi-unit franchisees, prospective franchisees, and suppliers achieve their growth objectives. For more information, visit Franchising.com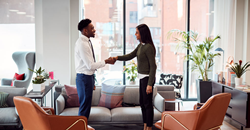 https://www.prweb.com/releases/franchise_owners_in_search_of_good_hires_in_a_tight_job_market_have_figured_out_the_path_to_success/prweb16646921.htm
Note: We are not responsible for typo error, price change, substitute item, or available of item from online ads.
Lưu ý: Chúng tôi không chịu trách nhiệm về lỗi ấn, thay đổi giá, hàng thay thế, hoặc có sẵn mặt hàng quảng cáo.