Theo tin \ prweb.com
Currently more and more IT jobs are being outsourced in a new direction: South America. The region has unique, appealing advantages for US customers, according to executives at Nearsure: time zone compatibility, travel proximity and a workforce of 600 million people with good english skills and great cultural affinity.
LOS ANGELES (PRWEB) JANUARY 31, 2019
There are many other strong reasons that make Latin America the most attractive solution for nearshore software outsourcing. With several globally competitive technical universities, the quantity and quality of latin tech talent has seen a significant rise over the last few years.
The 2018 Developer Survey conducted by Stack Overflow, a site for programmers with 4.7 million users, shows that the average reputation of top users is higher in south american countries like Peru (24.809), Colombia (21.094), Chile (18.080), Argentina (16.500) and Brazil (14.150).
For companies looking for cost-effective solutions, latin developers keep costs down without sacrificing the quality of work. Specially when it comes to outsourcing web and mobile application design, reducing costs is often the main priority.
According to the 2018 Deloitte Global Outsourcing Survey, 87% of business in the IT sector choose nearshore outsourcing for cost-cutting purposes.
And how cost-effective is the offer? For instance, software staff augmentation company Nearsure can reduce developer hiring costs by more than 50%.
With over 1,000 latin american developers already screened, this company is on it's way to change the US market's views and approaches about nearshore software services.
UruIT sister's startup was created at the beginning of 2018 with one single purpose: helping american companies develop winning digital products thanks to the help of South American tech talent and a team with over a decade of experience igniting the nearshore outsourcing model.
"Thanks to a very meticulous and effective recruiting process, we look to hire the best engineers to work remotely across the continent. We firmly believe this business model results in lower costs for clients and better salaries for devs", says Alejandro Morales, co-funder.
The executive pointed out that, besides the streamlined process, one of Nearsure's greatest differentiators among its competition is rapidity. In less than a week after the initial contact and a customized attention, the client is presented with 2 or 3 developer profiles that best suits the project.
These candidates are tested both in technical knowledge, soft and project skills and english fluency to best fit the client's needs.
"We currently have developers working remotely from Colombia, Uruguay, Venezuela, Costa Rica, México, Bolivia and Peru, but we hope to keep growing and giving opportunities for people all over the continent".
Nearsure works with a wide range of programming languages with a special emphasis on some hard to find technologies for US companies like machine learning, ECM, e-commerce, legacy apps and the latest front end frameworks.
Nearshore outsourcing it's a practical solution for clients who look to innovate in rather traditional industries. StayWell and Deg are only two of Nearsure's ongoing projects following this trend, just like many remote first american companies.
The bar is set high for 2019 when the company expects to have over 5.000 tech professionals ready to take on new projects.
However, the ultimate goal is to become the leading company of software staff augmentation in Latin America.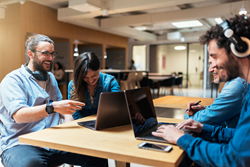 https://www.prweb.com/releases/latin_american_developers_take_over_the_us_market_with_top_reputation_and_lower_hiring_costs/prweb16059438.htm
Note: We are not responsible for typo error, price change, substitute item, or available of item from online ads.
Lưu ý: Chúng tôi không chịu trách nhiệm về lỗi ấn, thay đổi giá, hàng thay thế, hoặc có sẵn mặt hàng quảng cáo.