Theo tin Shagle
Decision to temporarily pause Shagle Coin SAFT sale based on concerns of a repeat of the Dotcom bubble in 2000
LOS ANGELES (PRWEB) JANUARY 18, 2018
The early opportunity for investors to purchase discounted Shagle Coins in a SAFT Sale of the first blockchain-based cryptocurrency for random chat applications has been paused with immediate effect. The decision was taken as Bitcoin dropped by more than 50% of its peak price, falling below $10,000 in a recent freefall which has shaken the cryptocurrency markets around the world. With countless blockchain offerings and sales based around systems and ideas which remain in the development stage, the panic around Bitcoin's steep decline could have a fatal immediate effect for countless startup and established companies, similar to the Dotcom bubble of 2000.
It is this reason which has led to the suspension of the Shagle Coin SAFT Sale for an indefinite period of time. Unlike the majority of blockchain sales where no viable product or service is in operation, Shagle's Coin is based on an established platform with millions of monthly users. The viability of the Shagle Coin is not in doubt with a system in place and operation for the use and spending of the coin. Concerns of a mass panic resulting in value being wiped from the Coin in its early stages is a significant risk should the SAFT Sale continue.
"The sudden and alarming plummet of Bitcoin is a serious concern across the cryptocurrency sector," said Shagle Press Director, Shea Robins, "We took an immediate decision to suspend the SAFT Sale to protect both the investors who have already purchased the coin and the future value of the coin."
Early backers in the Shagle Coin have welcomed the decision to pause the SAFT Sale and protect the future value of the coin. While the launch of the Shagle Coin will be pushed back to allow the SAFT Sale to continue once the market stabilizes, the long-term prospects for the Shagle Coin remain exciting and profitable as presented in the Shagle Coin Whitepaper. Any questions or concerns regarding the suspension of the Shagle Coin SAFT Sale should be sent to coin(at)shagle.com.
About Shagle
Shagle is the world's fastest-growing random video chat platform where people can use their webcam to connect with random strangers from around the world. The site is anonymous and allows users to connect instantly with strangers looking for random cam to cam conversations. Shagle is available in six languages including English, German, Spanish, French, Portuguese and Italian, with millions of monthly users and over a billion connections in the last three months. Shagle offers unique features such as the ability to only connect with users from a particular country and an android friendly layout for mobile users of the site.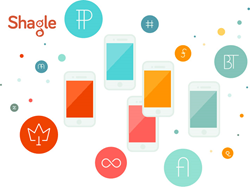 http://www.prweb.com/releases/2018/01/prweb15103622.htm