Theo tin Research and Markets
The solar power market in Vietnam is in the growth stage driven by rapid growth in electricity demand. As of 2016, Vietnam has XX Megawatts of Solar PV Energy Capacity, witnessing year-on-year increase of XX MW. Decline in solar module prices due to increasing competition coupled with government initiatives of increasing share of renewables in primary energy mix are driving the Vietnam solar power market to 2023.
Vietnam solar power market is valued at USD XX Billion during 2016. Further, by 2023, the industry's market value is expected to growth at a CAGR of XX percent to USD XX billion.
Wide range of drivers and challenges including feed-in-tariff, incentives, availability of finance from unilateral and bilateral agencies, significant investments across value chain and presence of key players are set to shape the future of Vietnam solar power market.
On the other hand, uncertainty of large projects, slow decline of prices beyond 2020, high capital expenditure, large installation area and increasing competition from alternative fuel sources are set to hinder Vietnam solar power market growth rates.
Technological advances in solar power market including increased efficiency, reduced overheads, reduced size of films, use of polymers and increase in new materials for solar power cells are set to boost incentives for increasing investments in solar power.
The Vietnam solar power market research report comprehensively provides drivers, challenges and potential opportunities confronting companies in the industry. The report also provides information on existing projects along with planned and under construction projects.
Further, key players operating in Vietnam solar power market- both domestic and international are detailed along with company, SWOT profiles of leading companies. In addition, recent developments in the Vietnam solar power market are also detailed.
Key Topics Covered:
1 Executive Summary
2 Research Scope and Methodology
3 Discussion on the Vietnam Solar Power Market
4 Vietnam Solar Power Markets – Emerging Market Dynamics
5 Vietnam Solar Power Markets- SWOT Analysis
6 Vietnam Solar Power Market Outlook
7 Key Companies in Vietnam Solar Power Sector – Business, SWOT and Financial Profiles
8. Recent Industry Developments
9 Appendix
For more information about this report visit https://www.researchandmarkets.com/research/c9ghd2/vietnam_solar
Contacts
Research and Markets
Laura Wood, Senior Manager
press@researchandmarkets.com
For E.S.T Office Hours Call 1-917-300-0470
For U.S./CAN Toll Free Call 1-800-526-8630
For GMT Office Hours Call +353-1-416-8900
Related Topics: Solar Power
Table of Contents
1 Executive Summary
1.1 Key Findings
1.2 Prominent Players by Sector
2 Research Scope and Methodology
2.1 Scope of the Study
2.2 Research Methodology
3 Discussion on the Vietnam Solar Power Market
3.1 Overview
3.2 Solar Power Market Value Forecast to 2023
3.3 Latest Industry Developments
3.4 Government Support, Policies and Regulatory Bodies
4 Vietnam Solar Power Markets- Emerging Market Dynamics
4.1 Key Drivers
4.2 Major Challenges
5 Vietnam Solar Power Markets- SWOT Analysis
5.1 Key Strengths
5.2 Key Weaknesses
5.3 Potential Opportunities
5.4 Potential Threats
6 Vietnam Solar Power Market Outlook
6.1 Solar Market Value Forecast to 2023
6.2 Installed Solar Capacity to 2023
6.3 Solar Power Consumption Forecast to 2023
6.4 Key Projects
6.4.1 Pipeline Projects
6.4.2 Proposed Projects
7 Key Companies in Vietnam Solar Power Sector- Business, SWOT and Financial Profiles
7.1 Domestic Players
7.2 International Players
8. Recent Industry Developments
8.1 M&A Merger and Acquisition Deals
8.2 JVs, Collaborations, Agreements
9 Appendix
9.1 Author's story
9.2 Value Proposition
9.3 360º Research Perspective
9.4 Abbreviations
9.5 Legal Disclaimer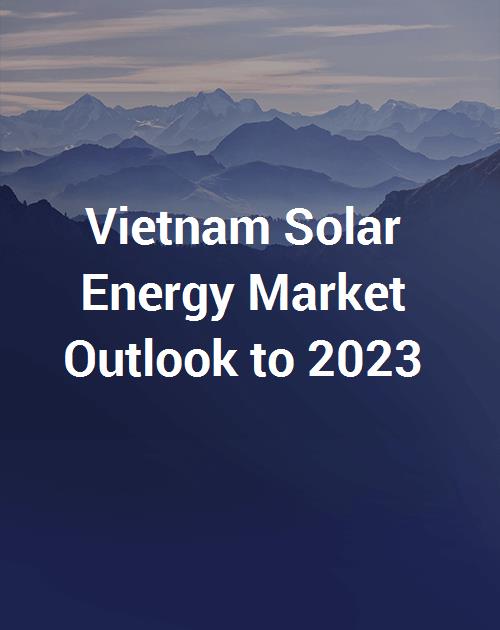 http://www.businesswire.com/news/home/20171018006008/en/Vietnam-Solar-Energy-Market-Outlook-2023–