Theo tin ResearchAndMarkets.com hay BUSINESS WIRE
VIETNAM PHARMACEUTICAL INDUSTRY
Products of the Vietnam Pharmaceutical Corporation are mostly focused on simple dosage forms, Generic form, low values, overlapping and lack of therapeutic, complex dosage drugs. The rate of new drug research investments of domestic companies accounted for only about 5% of revenue while foreign companies were 15%.
The total value of the pharmaceutical industry in 2018 was estimated at $ 5.9 million, of which a significant contribution from this growth was from imported pharmaceuticals. Although drug expenditure per capita increased sharply to 61.8 USD /person /year.
In the first 3 months of 2019, Vietnam's pharmaceutical import turnover increased by 16.2% compared to the same period in 2018. Pharmaceutical exports rose by 2% compared to the same period in 2018, in which, TTR was the main payment form, accounting for 93%. CIF delivery conditions accounted for about 70%, FOB made up 8.6% of total export orders.
According to the information about drug prices declared on the website of the Drug Administration – Ministry of Health, from the beginning of the year to April 19, 2019: Regarding imported drugs, there were 551 drug items whose prices were declared , 68 drug items whose prices were re-declared; About domestic drugs, there were 1,284 drug items of price declaration, 173 drug items whose prices were re-declared.
Pharmaceutical products are essential needs, so the economic growth has almost no effect on the industry's growth rate, the driving force is protected from state policies. The M&A trend between domestic and foreign enterprises is strong for both manufacturing and distribution groups. The Vietnam Pharmaceutical industry is forecast to continue to grow in double digits.
Contacts
ResearchAndMarkets.com
Laura Wood, Senior Press Manager
press@researchandmarkets.com
For E.S.T Office Hours Call 1-917-300-0470
For U.S./CAN Toll Free Call 1-800-526-8630
For GMT Office Hours Call +353-1-416-8900
1 Table of Contents
Key Topics Covered
Abbreviations
Report Summary
1. Business environment
1.1. Macroeconomic situation
1.2. Legal framework
1.3. Trade Agreements
2. Pharmaceutical Industry Overview
2.1. Global Pharmaceutical Industry
2.1.1. Production – Consumption
2.1.2. Export – Import
2.1.3. Production and Consumption Situation in major countries
2.1.4. Large Enterprises in the world
2.2. Vietnam Pharmaceutical Industry Overview
2.2.1. History of Vietnam Pharmaceutical Industry
2.2.2. Industry Position
2.2.3. Industry Scale and Feature
2.2.4. Value Chain of Vietnam Pharmaceutical Industry
2.2.5. Raw materials
2.2.6. Production technology
2.2.7. R&D
2.2.8. Production
2.2.9. Consumption
2.2.10. Export – Import
2.2.11. Price movements
2.2.12. Distribution system
2.3. Risks and challenges
2.4. Industry planning
2.5. Driving forces and forecast
3. Enterprise analysis
3.1. Profitability Ratios
3.2. Cost structure
3.3. Asset Management Ratios
3.4. Capital Structure
3.5. Solvency
3.6. Return on Investment
4. Appendix of financial statements
Companies Mentioned
DHG Pharmaceutical Joint Stock Company
TRAPHACO Joint Stock Company
Domesco Medical Import Export JSC
Imexpharm Pharmaceutical JSC
OPC Pharmaceutical JSC
S.P.M JSC
Vimedimex Medi – Pharma JSC
Ha Tay Pharmaceutical JSC
Ben Tre Pharmaceutical JSC
Lam Dong Pharmaceutical JSC
For more information about this report visit https://www.researchandmarkets.com/r/3bvuy0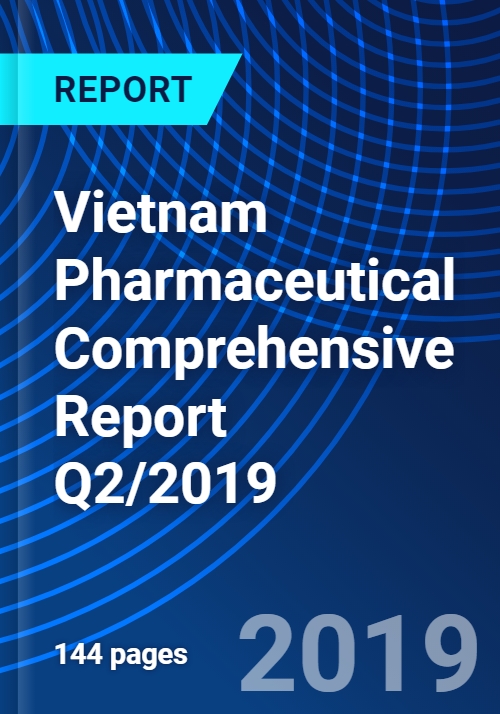 https://www.researchandmarkets.com/reports/4808427/vietnam-pharmaceutical-comprehensive-report?utm_source=BW&utm_medium=PressRelease&utm_code=vd6w9z&utm_campaign=1288160+-+Vietnam%27s+Pharmaceutical+Market%3a+Comprehensive+Report+Q2%2c+2019&utm_exec=joca220prd
Note: We are not responsible for typo error, price change, substitute item, or available of item from online ads.
Lưu ý: Chúng tôi không chịu trách nhiệm về lỗi ấn, thay đổi giá, hàng thay thế, hoặc có sẵn mặt hàng quảng cáo.